The vast plenary hall was nearly empty. Nation after nation had ministers and negotiators stand up for their three minute statements on the progress of these 18th annual climate negotiations taking place in the cavernousQatarNationalConvention Centerin the desert near Doha. Slim and greying American lead negotiator Todd Stern mounted the steps to deliver what everyone assumed would be a defensive and rote portrayal of an administration doing all it could, the tired and totally debunked line about how theU.S.is showing leadership on climate action.
Climate refugees, climate-induced migration or environmental migrants are terms which, coined by various researchers and international organisations, have recently attracted a considerable amount of attention by the public, media and academics.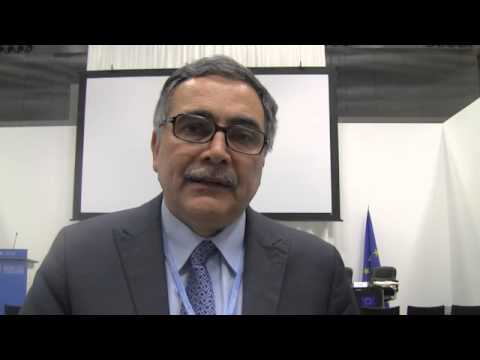 For 15 years, climate policy wonks have been talking about "the post-2012 World," describing the years after the end of the Kyoto Protocol's "first commitment period," which ran from 2005 to 2012.  Now just three weeks away, the post-2012 world is actually much fuzzier than ever before.  Just as we near the shore, a fog is descending.
Next week COP18 will kick off in Doha, Qatar. As the United Nations Framework Convention on Climate Change's main conference of the year, COP18 will draw thousands of civil society delegates in addition to the country delegations beavering away to try and find common ground for a new climate deal. Here we provide a brief list of the official side events related to Latin America scheduled for the Doha Conference.
The Latin American Platform on Climate (known by its Spanish acronym PCL) has published a report on the state and quality of public policies on climate change and development in Latin America, particularly those focused on agriculture and forestry.  This report is the product of an initiative by the PCL based on 10 national reports for countries in the region (Argentina, Bolivia, Brazil, Colombia, Chile, Ecuador, El Salvador, Paraguay, Peru and Uruguay).  All the reports, both national and regional, are available here in Spanish. An English version of the regional report only can be downloaded here.
By Suzy Mage and Guy Edwards
Chile's LAN airline recently took over Brazil's TAM, creating LATAM – the world's second largest airline by market value. This merger reflects the impressive growth in Latin America's aviation sector which is expected to see air passenger numbers almost triple by 2030. Given the rapid rise of aviation's contribution to global carbon emissions, the connection between air travel and climate change in Latin America and other developing regions cannot be ignored.
This letter was originally published on the Guardian's website by Pa Ousman Jarju who chairs the Least Developed Countries group at the UN climate change negotiations.
More than 40 high level officials and experts from various Latin American countries met in Lima this month to debate the importance of public policies on climate change in the region, with a particular focus on the agricultural and forestry sectors, using as its basis a report prepared by the Latin American Platform on Climate.
Following the global climate negotiations at the Bangkok intersessional meeting in September 2012, many questions are being asked in preparation for COP18 in Doha. Can we find any logical relationship between developed countries' claims that this was an informal session, meaning "no-negotiation-text" was required as a result of Bangkok, while we read there is a major shrinking of the Arctic sea ice?