Civil Society
---
This document outlines the Strategic Lines of Action of the Latin American Platform on Climate.
This article was first published in LINKS (Jan 2011, No. 37), the magazine of the Chamber of Industry & Commerce Ecuador & Great Britain.
Climate change could cost the Ecuadorian economy billions of dollars. By 2025, the economic losses caused by global warming in countries which make up the Andean Community – Ecuador, Peru, Bolivia and Colombia – could reach approximately $30 billion annually.
The predicted impacts of global warming in Latin America are likely to be harsh. From decreasing agricultural yields and melting glaciers threatening water supplies to job losses and higher incidences of vector borne diseases, climate change has the potential to transform Latin America's economy, ecosystems and society.
By Arielle Balbus, Brown University
Attending the various civil society events in Cancun one was struck by how differently the participants framed the issues from their presentation at the UNFCCC negotiations down the road.
Both the Klimaforum and La Vía Campesina presented economic liberalization, the multinational corporations, urbanization, and the acceleration of technological change as direct causes of the climate crisis, and proposed a revalorization of "traditional" knowledge and practices as the first step towards averting environmental disaster.
By Arielle Balbus, Brown University
On Tuesday, December 7th, "1,000 Cancuns" recognized the Global Day of Action for Climate Justice.  La Via Campesina, Klimaforum, and Dialogo Climatico-Espacio Mexicano as well as activists in over 20 countries worldwide took to the streets to make a strong statement about who is most affected by climate change and how it should be resolved internationally.
The official slogan of La Via Campesina's march was "Small Farmers Cool the Planet".  From November 25-December 10, La Via Campesina convened the "Forum for Life, Social and Environmental Justice", which focused on building a potent climate justice movement among the largely rural and indigenous groups who traveled in caravans from across Mexico and beyond.
By Adam Kotin, Emily Kirkland and Guy Edwards, Brown University
Following the release of two new negotiating texts yesterday, today's high-level segment is set to chart a course for the next 36 hours of high-octane negotiations. COP16 President Patricia Espinosa said that she is optimism for a productive outcome but nothing is guaranteed at this delicate stage.
During the conference numerous experts have reminded us that reaching an agreement is an extremely difficult task. However, many have consistently stated that sufficient political will could break the impasse. Bolivian President Evo Morales, whose position has been under fire for his consistent critic of developed countries' feet dragging and climate debt, gave an impassioned speech on why the international community must make history in Cancun. Here we capture some of his remarks given earlier this morning:
By Adam Kotin, Brown University
Excerpts from the Via Campesina March, Cancun, Mexico, December 7, 2010. A civil society response to COP16, the United Nations Climate Change Conference.
Protestors came from all over the world to participate in the movement. They marched several kilometres towards the Moon Palace, where negotiations were being held, until they were stopped by a massive police barricade.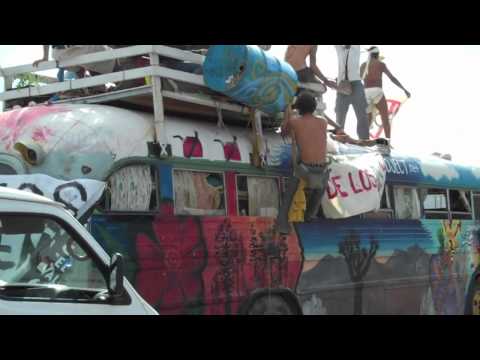 Meena Menon over at the Climate Change Media Partnership has the latest on the Via Campesina's alternative NGO forum in Cancun for the COP16:
Led by Via Campesina, or the International Peasant Movement, farmers have been traveling around Mexico to get here by caravan. A day of protests Dec. 7 to reject the "false and market based solutions" to climate  change is one of several actions planned.

Positioned as a direct challenge to the United Nations climate change conference, Via Campesina has a presence in over 70 countries, uniting farmers, workers and indigenous people to stake a claim for their rights and make their voices heard, the organizers said.

Unlike venues of some past UN climate summits like Copenhagen, the arrangement in Cancun is to disperse them across a large area separated by security points. Another alternative forum of NGOS, Klima Forum, is an hour bus ride from the main UN venue.

"It is impossible for people to go near the conference or have any say," remarked Paul Nicholson, member of the Basque Farmers Union. The Via Campesina Global Forum is a platform for grassroots movements  which need a space to express their dissent and discuss solutions.
To read the program of events for the Via Campesina's Forum for Life, Environmental and Social Justice taking place from the 4th to 10th December in Cancun click here.
By Arielle Balbus and Guy Edwards  (Brown University)
In April this year, the First World People's Conference on Climate Change and the Rights of Mother Earth drew over 35,000 people to the Bolivian city of Cochabamba.
The challenge it posed to the climate establishment for failing to reach an agreement in Copenhagen, as well as its substantive accomplishments, are considered a revolution in social mobilization around the mounting threat of climate change.
In this interview with one of Latin America's sustainable development heavy-weights, we discuss the prospects for the Cancun climate change talks and the involvement of Latin American countries, climate debt, the role of civil society and Ecuadorian climate politics.
Yolanda Kakabadse is the current president of the WWF and the Latin America Network Director for the Climate and Development Knowledge Network. Previously the Minister of Environment in Ecuador, Yolanda also set-up the Quito-based Fundación Futuro Latinoamericano (FFLA). Yolanda has been granted numerous awards including by the UN for her contribution to the environment and development in Latin America.

1. Do you feel optimistic that Latin American countries can work together to push for an international agreement in Cancun this December?
Hopefully, Cancun is going to be different to Copenhagen. The best scenario is that it does not become a moment for negotiations but rather an opportunity to become a platform for dialogue. Dialogue should focus on where there is agreement and understanding.
This could help countries agree what they can negotiate later on and establish what is disturbing the negotiations and therefore what should be clarified. There is currently so much division between blocks that going into Cancun to negotiate could prove to be more divisive. Further confrontation should be avoided to maintain faith in the UN process.
This article featured in the North American Congress on Latin America written by Jim Shultz and published in 2010 describes the World People's Conference on Climate Change and the Rights of Mother Earth held in Cochabamba, Bolivia, in April 2010. The conference called on wealthy nations to acknowledge and pay a "climate debt" to the countries on the blunt end of climate change as well as for an international tribunal empowered to consider the responsibility of countries and corporations that have contributed to the climate crisis and to enforce penalties and action against them. The author questions how the demands produced by the Conference might be integrated into global decision making on climate and how civil society advocating for greater action can move beyond producing statements and achieve real change.